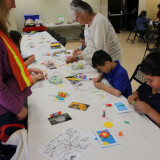 How You Got Here: Illustrate Your Family History
05/31/2022 | 01:00 PM - 03:00 PM
Auditorium |
Registration Required
Education Program - Seniors
The Nevada State Museum, Nevada Arts Council and Lifetime Arts is sponsoring this special arts program for mature adults. How You Got Here - Learn to tell your story, illustrate your family history, and preserve your family record for future generations. Taught by professional artist Tina Drakulich and fellow teaching artists. 7 classes meeting Monday, May 23rd, Tuesday, May 24th, Tuesday, May 31st, Monday, 6th, Tuesday, June 7th, Monday, June 13th and Tuesday, June 14th from 1:00 pm-3:00 pm at the Nevada State Museum, 600 N Carson Street, Carson City, NV 897014. No fee, all supplies will be provided, no previous experience necessary. Space is limited and reservations are required.
Minimum Participants:
1
Maximum Participants:
15
Registration is required for this activity. Click "register" to reserve your spot.
Documents
Mina Stafford
(775) 687-4810