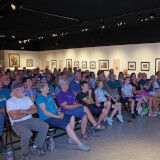 Frances Humphrey Lecture Series "The Mormon Battalion of 1846: Who Were They?" by Jim Bonar
05/26/2022 | 06:30 PM - 08:00 PM
NSM-Carson City |
Registration Required
Frances Humphrey Lecture Series
This presentation will give the historical overview the group of Mormons, known as the Mormon Battalion, that President Polk recruited in 1846, and Brigham Young released, to assist in the conquest of California by General Kearny with the army of the west. Why was it formed, what was its purpose and what happened? Why is it so important to our trail's history, and what other historically events are they responsible for? Jim is a locally retired High School teacher, ending his teaching career as a Math teacher at Sparks high school. He became interested in roads as a young child in Green River Wyoming while watching the traffic passing through town, on Highway 30. This encouraged him to study and research many western events. Jim at present is Director, and past president of the Nevada chapter of the Lincoln Highway association. He is also a member of many of our local and state historical societies, now, for his retirement activities, he gives presentations, and tours, of Western historical topics involving emigrant trails, early roads, and other western events, to many local groups. Admission is $10 for adults, members and children age 17 and under are free. Seating is limited.
Minimum Participants:
1
Maximum Participants:
45
Registration is required for this activity. Click "register" to reserve your spot.
General Info
Mina Stafford
(775) 687-4810