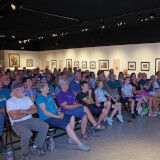 Frances Humphrey Lecture Series: HAIR, MAKE-UP & ME, by Jan Loverin
03/23/2023 | 06:30 PM - 07:30 PM
NSM-Carson City |
Registration Required
Frances Humphrey Lecture Series
Hair, Makeup and Me: Putting on your face, or applying makeup, is an activity most women and some men do daily. Curator, Jan Loverin, explores a brief history of this ritual and its meanings – from protecting our eyes from sun glare, to understanding the significance of "lip candy," to disparate challenges due to skin color – makeup is an integral part of culture and society. This, along with developments in the hair care industry, generates an engaging lecture, providing background, understanding, and insight into the importance of appearance. This lecture will be presented in person and on Zoom. Admission is $10 for adults, members and children age 17 and under are free.
Minimum Participants:
1
Maximum Participants:
45
Registration is required for this activity. Click "register" to reserve your spot.
Documents
Kelly Brant
(775) 687-4810